Welcome to Diane Morgan Fine Art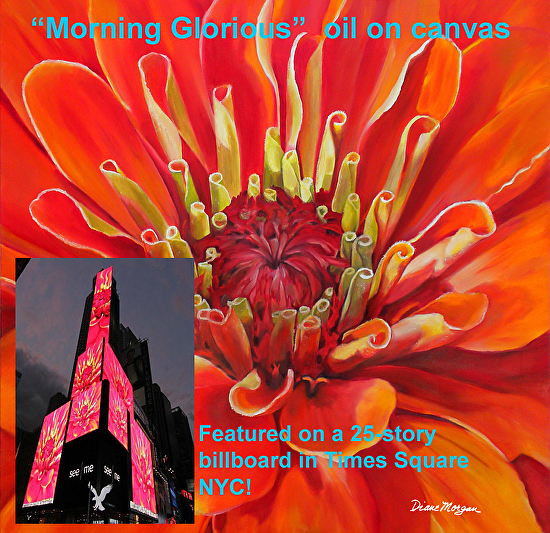 "Morning Glorious" is the program feature art for my show at the Rancho Mirage Library. Show runs April 1 to June 30th. It also received an Honorable Mention in the 6th Annual Stroke Recovery Center art show judged by CODA gallery. It is on display at the Center until April 19th and then moves to the Rancho Mirage Library.
Scroll down to see recent work
You can also find my work at http://www.saatchi-gallery.co.uk
<a href="http://www.saatchi-gallery.co.uk/">The Saatchi Gallery</a>
Watercolor and oil/acrylic classes in Palm Desert. Click on "Classes" (above) to see the schedule. Classes are held at Venus Studios Art Supply's new location 41801 Corporate Way #7, Palm Desert (west of Cook south off Hovely)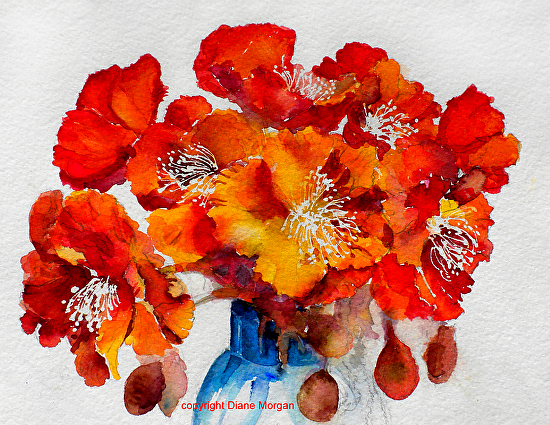 Fresh off the easel. "Painted Poppies II" watercolor on paper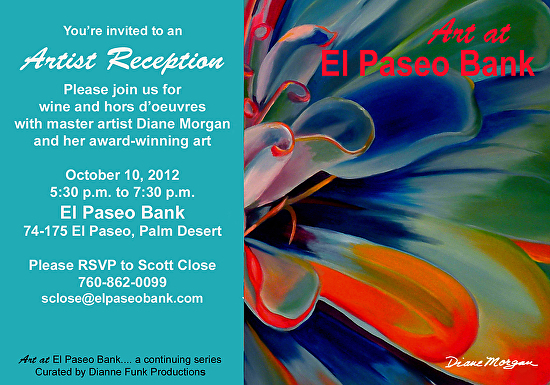 Fresh off the assembly line "55 Ford Fairlane" watercolor 20" x 14"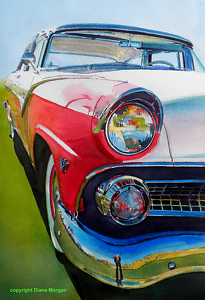 Just received my copy! So thrilled to be included in the new Splash 13 with some pretty heavy hitters .......Watercolor's best of the best.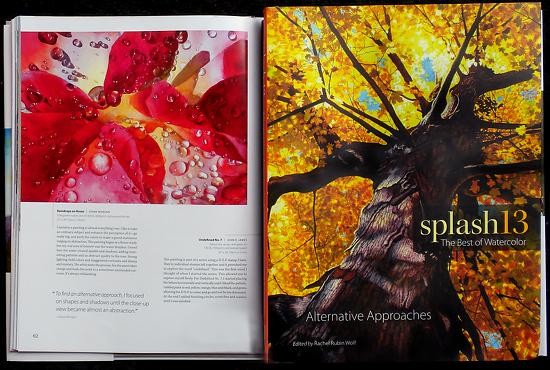 Featured in July Desert Star Weekly. http://desertstarweekly.com/2012/07/26/diane-morgan-master-of-watercolors-and-oils/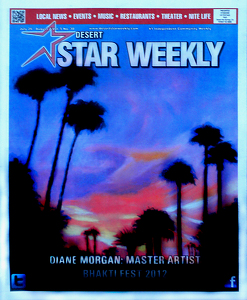 Artist of the Month - TheArtList. http://www.theartlist.com/aom_04_12.html
International Artist Magazine features a ten-page article about my work June/July 2012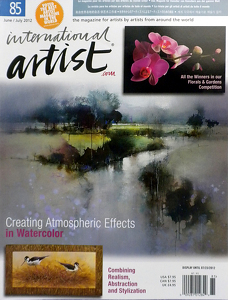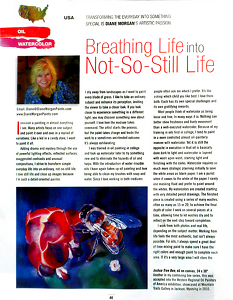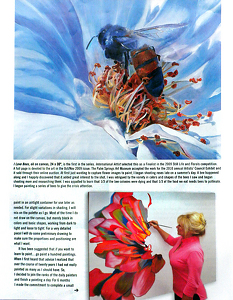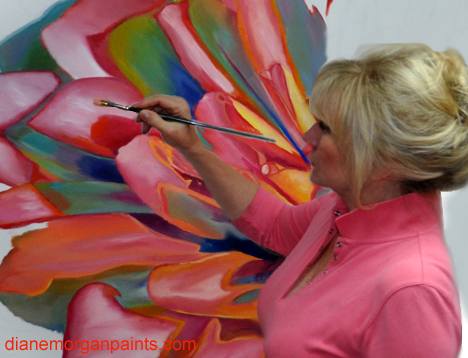 "Just Glorious" In-Progress oil on canvas 48" x 60"
Artist of the Month - The Bayview Watercolor Society in Richmond Hill, Ontario, Canada http://thebayviewwaterfront.blogspot.com/2012/06/junes-artist-of-month-diane-morgan.html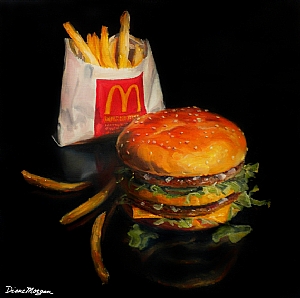 "Big Mac and Fries" was featured on the cover of McDonald's May newsletter in the Coachella Valley and Upland/Redlands area. Distribution- 150,000 copies. SOLD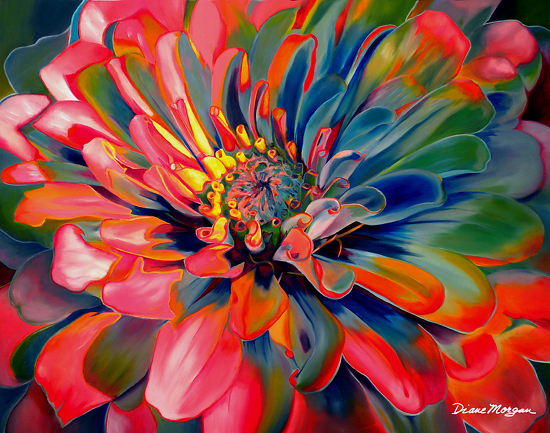 Fresh off the easel. "Just Glorious" oil on canvas 48"x 60" premiered at the Indian Wells Arts Festival. It was selected as the cover art for the latest OvationTV "Anthology of Friends" collection of artists book. Now available at http://www.blurb.com/bookstore/detail/2159419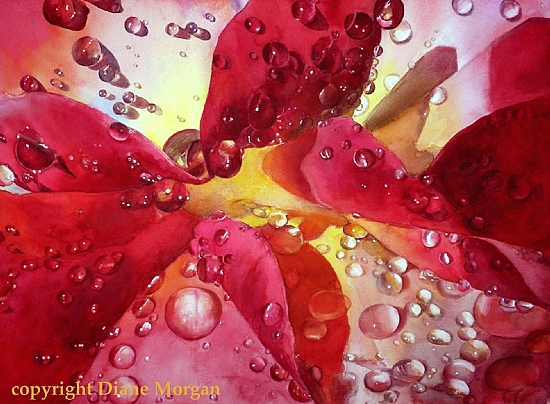 "Raindrops on Roses" watercolor, 21" x 29" was selected for the Blossom II Art of Flowers exhibition premiering at Florida's Naples Museum of Art. Approximately 100 paintings were chosen out of 2300 entries from 35 countries. The show continues on National Tour.... Sonora Desert Museum, Tucson, AZ..... R.W. Norton Art Gallery, Shreveport, LA.... Garfield Park Conservatory, Chicago, IL......Art Center Manatee, Bradenton, FL. Final stop March 19-May 20, 2012 Greenacres Arts Center, Cincinnati, OH
It has also been selected for publication in the newest f+w publications best- of -watercolor series "Splash 13: Alternative Approaches" available in bookstores, or Amazon http://www.amazon.com/Splash-13-Alternative-Approaches-Watercolor/dp/1440310351/ref=sr_1_2?s=books&ie=UTF8&qid=1321481095&sr=1-2
Check out master watercolor artist Chris Beck's blog for a feature on my car paintings. http://brush-paper-water.blogspot.com/2011/01/car-culture-diane-morgan-and-ron.html
My "Mission Accomplished" photo was juried into the FLOWERS, TREES, BIRDS, BEES: NATURE EXPOSED photo competition at the PhotoPlace Gallery in Middlebury, Vermont. Only 40 images were selected out of over 1200 entries. Exhibition: Jan 4th - 29th. http://www.vtphotoworkplace.com/id97.html

"Joshua Tree Bee"accepted into Western Regional Oil Painters of America show.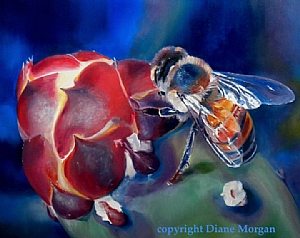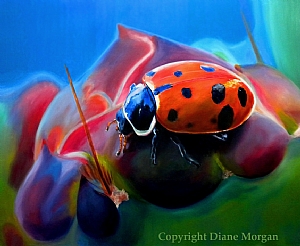 "Lady's Day"(lady bug) 24x30" oil on canvas made the Top 100 of the 2010 Paint the Parks competition. Paint the Parks art may be seen at http://www.paintamerica.org/2010ptp100html/8ptptop100.html
"Hot as a Heartbeat" (Camaro) watercolor 22" x 29" was awarded 1st Place in watercolor at the April, 2010 Indian Wells Arts Festival. In addition, I was selected as Best Local Artist with a ribbon awarded by Jensen's Finest Foods. "Hot as a Heartbeat" also came in First garnering me the title of Painter of the Year in the 2010 Coachella Valley Watercolor Society competition. Was also on display in State Senator Juan Vargas' Indio, CA office.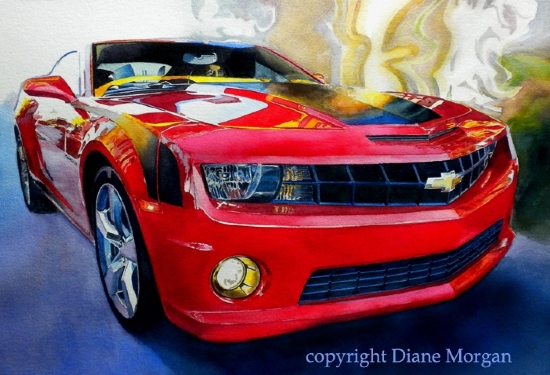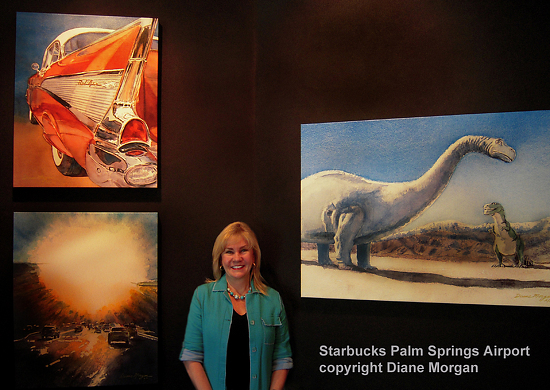 The new Starbucks at the Palm Springs International Airport officially opened with a ribbon cutting by the Chamber of Commerce, Palm Springs Mayor and City Council, and the Airport Commission. My three watercolor giclees help "perk" up the walls. By the way....that black wall is made of coffee beans, and smells fantastic.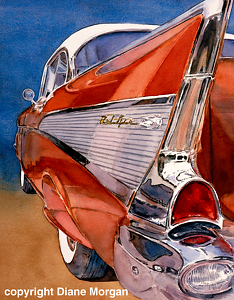 "Heaven is a '57" was accepted in the Paint America Top 100 Exhibition and traveled on national tour throughout 2010. It won First Place in watercolor at the Indian Wells Arts Festival. In addition to the awards, "Heaven is a '57" has been selected by f + w publications, publishers of Southwest Art, The Artists Magazine and Watercolor Artist as a feature in their advertising. It was also one of only 10 finalists out of 2000 entries in Aaron Bros "Show us your America" contest.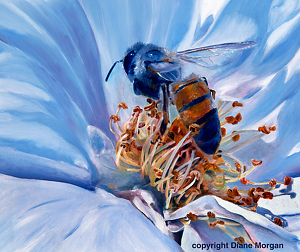 International Artist Magazine selected I Love Bees 24" x 30" oil as a Finalist in the Still Life and Florals competition.A full page is devoted to my work in the Oct/Nov 2009 issue. The painting was on display at the Palm Springs Art Museum in the annual Artists Council Exhibition and sold through their online auction.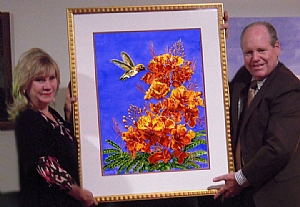 "Bird in Paradise" was chosen as one of only nine finalists in the 2010 Watercolor Magazine cover competition and is featured on page 27 of the Summer issue. The original was on display in the California State Capitol from May of 2009 until October 2010. It was selected by then-Senator, now County Supervisor, John J. Benoit to represent my State's District in the California State Senate Biannual CA Contemporary Art Collection. Bird in Paradise is the poster art for the 2009 Indian Wells Arts Festival. Signed posters are available for $30 which includes tax and shipping. See "Indian Wells Arts Festival Poster" in the watercolor section to purchase a poster.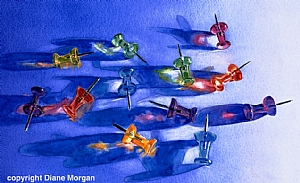 "Organized Chaos" was chosen for the 89th Annual National Watercolor Society Exhibition and received the "Watercolor West" Award, a $500 cash prize. It was also one of only 30 chosen for the NWS Traveling Exhibition which toured the United States during all of 2010.